Main content starts here, tab to start navigating
Panther Coffee
Panther Coffee is a Miami-based specialty coffee roaster that started right here in Wynwood (down our street.) We couldn't think of a better partner to help us bring the energy to this space.
JoJo Tea
Since Jojo Tea has arrived in Miami, their dedication to their product and knowledge is unparalleled. We figured why not go to the best for our daily cuppa.
Mimmo's Mozzerella
First of all - the cheese is good. Second - the cheese is good, and local. Bruno Ponce and his team have been at it for several years, quietly operating in North Miami building, mostly filled with walk-in refrigerators and stainless steel work tables. The milk comes from Wisconsin cows and is processed into curd in New Jersey before it's sent south to Florida.
We can't get enough - and neither will you.
Lake Meadows Natural
Being the main ingredient in our dishes, we had to make sure that we sourced the perfect egg. This farm is a natural poultry farm producing eggs from chicken and duck that are raised in stress-free environment. They are free from antibiotics and growth hormone and are a 100% vegetarian fed. They also have a farm store where they educate customers the benefits of consuming all natural food and their effect on health. That's something we can get down with.
Cheshire Pork
Since we make our bacon and sausage in- house, sourcing the perfect pork was essential. For 40 years, Heritage Farms Cheshire Pork has been selective breeding to choose only the top 3 percent. They insist on quality over quantity, always - which shows through mouth watering marbling and full flavor texture.
All their piggies are hand fed, controlled diets with no hormones, steroids, fillers, flavors or preservatives. And that's important to us.
Paradise Farms
Gabriele Marewski purchased an abandoned five-acre avocado grove next door to her home and in 1999 founded Paradise Farms. Respecting the principles of sacred geometry and the ancient art of feng sui, the layout of the farm is centered on a circle of beds and a gazebo that was designed in collaboration with Robert Barnes, a local architect and Richard Medlock, a local artist and stylized by Christopher Siragusa. The product line now includes micro greens, over 52 varieties of edible flowers, a popular baby greens mix, assorted basil tops and mint tops, baby root vegetables, oyster mushrooms, honey and a variety of tropical fruits.
No wonder the herbs taste so good.
Harpke Farm
Harpke Family Farm is a Dania Beach-based urban farm, founded in early 2013 by Tamer Harpke. Once only a backyard hobbyist, Harpke's green thumbs now tend to multiple plots yielding local produce, with a special focus on his year-round microgreen production. Supplying top restaurants and consumers alike, Harpke Family Farm employs sustainable, organic farming practices, while refraining from the use of synthetic pesticides, herbicides or fertilizers. They supply all our greens - yay!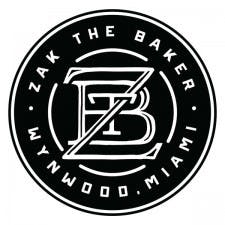 ZAK THE BAKER (Wynwood)
Stern and his wife were dedicated to becoming a kosher facility, and from their kitchen, his talented team puts out everything from gooey chocolate rye cookies to flakey salmon resting on a creamy bed of legumes. The staff operates like family and has slowly ballooned from four to 45. We are very excited to now stock his amazing Rye and Sourdough Bread, pairing perfectly with the grilled cheese, or pastrami sandwich.
zakthebaker.com